20 Natural Beauty Products That Actually Work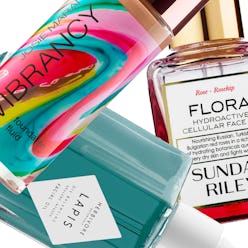 We know that what we put on our bodies is just as important as what we put in our bodies, but at the end of the day, we need our beauty products to get the job done. Thanks to a slew of chic and health-minded brands, we can feel good about what we're using without having to sacrifice our glowing skin or our favorite makeup looks. Here, 20 natural beauty buys that actually work.
Go Au Naturel
Daily Moisturizer
Peptides and vitamins C and E hydrate and brighten skin.
Face Oil
This all-natural oil hydrates and combats inflammation without leaving skin looking or feeling greasy.
Concealer
Finally, a cover-up that's good for you.
Lip Balm
Organic lemon oil and pure lanolin keep lips soft and moisturized.
Sunscreen
Perfect for every skin type, this non-greasy broad-spectrum sunscreen protects with SPF 35 and is light enough to wear every day.
Lip Tint
Lips get a juicy wash of color thanks to hydrating coconut oil and cocoa butter. Swipe across cheeks for a healthy-looking glow.
Face Mask
Exfoliating papaya enzymes and detoxifying clay get skin glowing in minutes.
Eye Gel
Give tired, puffy eyes a boost with chamomile, aloe vera, seaweed and vitamin C.
Serum
Collagen boosters fight signs of aging.
Deodorant
Coconut oil and baking soda keep you feeling fresh all day without harmful chemicals.
Toner
Apple cider vinegar helps even skin tone and minimize oil production—without the smell of vinegar.
Mascara
Argan oil promotes long, thick lashes.
Makeup Remover
Melt away all traces of makeup, dirt and oils with this solid-balm-to-oil cleanser.
Mineral Sunscreen
This SPF 50 powder is a godsend for reapplying sunscreen when wearing makeup. Use the built-in brush to dust on product every couple of hours.
Face Mist
This hydrating spray tones the skin, restores radiance and freshens makeup.
Anti-Aging Face Oil
Reduce the appearance of fine lines and wrinkles with this pomegranate, chia seed and rose hip oil blend.
Lipstick
Finally, an organic lipstick that gives you the pigment you love—and it comes in every shade you could want.
Makeup Setting Spray
Not only does this mist help your makeup stay in place all day long, it also protects your skin with a broad-spectrum SPF 30.
Foundation
Medium-to-full coverage gives you a flawless-looking complexion. Pure argan oil and blueberry extract hydrate.
Anti-Aging Serum
This powerful serum visibly improves fine lines and wrinkles in as little as two weeks.
Read More: 20 Natural Beauty Brands You Didn't Know About
Here, 20 under-the-radar natural beauty brands you may not know about but should work into your repertoire ASAP.