Cool Cosmetics: Nars Loves Los Angeles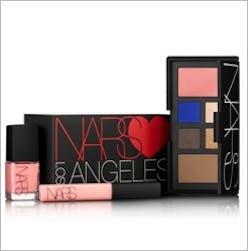 In honor of the chic and glamorous City of Angels, Nars curated a limited edition gift set featuring the most popular pigment, lacquer and gloss according to Los Angeles natives—so major.
Days of digging through jam-packed makeup bags for your favorite, go-to product are through once getting your hands on this compact set. Loaded with gorgeous neutrals suitable for on-the-go, day and night wear (hear that, fashion week attendees?), we claim this pretty palette to be a jet-setter's dream buy. Feeling LA-inspired? Get your brush sets ready; these classic colors are begging to be tested!
Availability: Nars Loves Los Angeles Gift Set ($75).