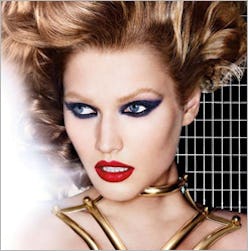 Fall season is right around the corner (crazy, right?), which has us mentally prepping for cooler climates, retiring our summer sundresses and highly anticipating swapping our punchy summer puckers for something a little sultrier. That being said, we're looking to NARS' new Fall 2013 Collection as our 'make an impact via makeup' inspiration.
Focused on rich, matte textures and paying homage to signature shades of the past, NARS' most recent collection seeks to emphasize the eyes with a handful of striking shadow palettes and long-wear liners in bold hues. Complementing its strong focus on a show-stopping gaze, the collection is completed with two opaque nail lacquers and piping hot tints for your pout. Launched onsite today, this compilation of daring shades beckons you to curate a fiercely fall-inspired look of your own, before beauty bloggers beat you to it.
Availability: NARS Fall 2013 Color Collection ($19-26) available July 15th at NARSCosmetics.com.