How Davlyn Mosley is Changing The Skin Care Category One TikTok At A Time
The Namesake founder wants to create a more equitable beauty space.
Courtesy of Namesake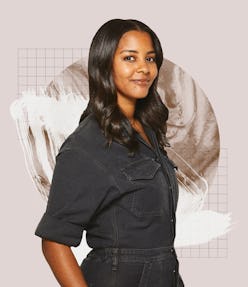 We may receive a portion of sales if you purchase a product through a link in this article.
Creating a skin care brand was never on Davlyn Mosley's vision board. However, the former marketing and advertising executive felt like the beauty industry was lacking in products that catered to the unique needs of skin of color — so she decided to take matters into her own hands. In 2022, Mosley switched industries on faith and founded Namesake, a skin care line designed for melanin-rich skin, with her mother, Dr. Lynn McKinely-Grant. Currently, the brand has one hero product: a daily moisturizer that plumps, hydrates, and brightens the skin.
While Mosley didn't start her career in the beauty industry, she's no stranger to the skin care space. As the daughter of a Harvard and NYU-trained board-certified dermatologist, Mosley attributes her unwavering passion and inspiration for Namesake to her mom, who has been bestowing lifelong skin care lessons upon her from a young age. "I got into skin care so early. Going to conferences with my mom, I felt like I was part of the process. She always says she didn't realize how it impacted me, but it was really cool," Mosley tells TZR. "When my mom had a practice, I would go into her office to help her and along the way, I learned the ins and outs of skin care." Mosley adds, "Because only 3% of dermatologists are Black, they're highly sought after, so it's really special to have a Black dermatologist at the center of the community."
And while building community and skin care accessibility are pillars of the brand, the duo didn't expect to form an audience on TikTok. Over the past year, Mosley in particular has become quite the skinfluencer on her personal account, with viral videos about a number of skin concerns including traction alopecia, Botox, and you guessed it, the skin care dos and don'ts that she learned from her dermatologist mother. Her TikToks serve relatable skin care content for Namesake's target customer, but they also act as an introduction to the brand, too.
When you scroll through her account, it's easy to see why she's built a hyper-engaged legion of over 60,000 followers. Mosley and McKinely-Grant (who often makes guest appearances in the TikToks) cover an array of topics that specifically affect those with melanated skin in a digestible way, which is game-changing for Black and brown women who don't have the luxury of visiting a dermatologist's office in person.
Ahead, the entrepreneur discusses social media stardom, working alongside her mother, and how she hopes to create equity for those who've long been underrepresented in the beauty space.
You founded namesake with your mom — describe your working relationship?
"My mom is our advisor which is really invaluable. Her firsthand knowledge of treating patients of color over the course of her career has driven a lot of the decisions about the ingredients we included in the moisturizer. She's seen certain preservatives cause irritation in patients, so we made sure to avoid those. You should see the spreadsheet where we obsessively analyzed each and every ingredient included in our first product."
Why did you decide to launch with a moisturizer first?
"I always say without moisturizer the other products in your routine won't work. It's the least you can do if you're trying to keep your skin healthy, plump, and not irritated; wear moisturizer and start there. One of our biggest gripes for skin of color is hyperpigmentation or even dark under eyes and shadowing, so focusing on brightening and healthy skin is the goal. The main ingredient is three polyhydroxy acids which contribute to the smoothness that you feel and rosehip oil. It's a formula you can use morning and night, and slowly make an impact on your skin without thinking about it."
You've grown a large, loyal following on TikTok. What's the secret to this success?
"TikTok has been so fun over the past year. Having a mom who is a dermatologist is a really unique experience and at the same time feels relatable. It's funny because the response has been very similar to what it was like growing up with a dermatologist as a mom. I'm so used to people asking me things like, 'Can you ask your mom what she thinks about Botox?' or 'Can you send her this picture and ask what it is?' The account is a place where I share some of the skin care advice that I grew up with as well as anecdotes about her preferences. People are always searching 'Black girl (insert skin concern)' because people want to see people that look like them. I haven't had Botox or gotten any filler, but my video about injecting your hairline with Botox and preventing sweating got so much engagement. When it comes to Namesake, it's been great to share my founder story and brand with such a giant audience — something that would take years to build offline."
TikTok makes learning about complex skin care topics more accessible. How has it helped even the playing field for women of color?
"With so much misinformation (and confusion) about skin care out there, I think TikTok is a great opportunity to share factual information — especially straight from dermatologists. I love seeing how so many dermatologists of color have started growing followings on the platform, and I love that expert advice is only a tap away — but of course, you have to look for it."
How do you and your mother hope to demystify skin care for younger generations?
"The emphasis on simplicity is really key. My mom always said, 'less is more' (even when I rebelled and would try five new products at the same time and then complain that my skin was freaking out). While 10-step routines are still being glorified as they make for interesting content, it can be overwhelming and even detrimental to your skin if it is sensitive. I advocate experimenting by adding one new product into your routine at a time. Patch test on your wrist for 24 hours and then make it a staple versus trying three new things at once and trying to course correct."
What advice do you have for aspiring beauty entrepreneurs?
"Talk to as many people as you can. Getting connected and learning from other founders is so huge. Also, exercise patience because things take longer than you think. The testing and product development stage takes time to get things perfect, and so many hiccups happen that can push your timeline out. Starting small allows you to learn along the way. I'm very glad I did that versus launching with a full collection."
What's next for namesake?
"I don't want to rush to put out products for the sake of having products. I want to continue launching products essential to a routine that's innovative. I'd also like to do more in-person community events so people can try products in real life. Connecting with the community goes a long way."