The Nail Polish You Should Wear On NYE, According To Astrology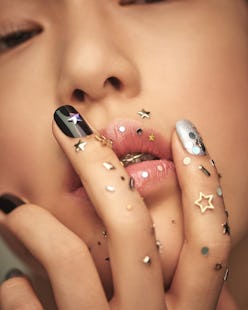 The color you wear on your nails while transitioning into a new year is more important than you think. While the universe is going through some changes, you're likely dealing with your own—so in order to manifest the best possible outcome, we're taking advice from the pros. We tapped Los Angeles–based nail salon Enamel Diction and its resident color astrologer Rose Theodora for suggestions on the best hue for every sign. Pick the right shade and you might be in for an amazing year ahead.
"Your purpose in 2017 is to motivate others and inspire them with fearlessness—you'll set an example whether you intend to or not. It's time to focus on your goals wholeheartedly. Your ambition will take you far, and you'll inspire others along the way. Pick a deep sapphire polish this New Year's Eve—it's the only color as powerful as you."
"Your focus for the new year is expanding your horizons and gaining a bigger picture that only fuels your steadfast approach. A warm orange with hints of gold will further propel your creative inspiration."
"The new year has you thinking about your current support system, like family, friends and even your spouse. Your greatest strength is surrounding yourself with people that allow you to be yourself. A classic yet playful polish in a rose gold is the perfect representation of your personality—wear it in January to build new relationships."
"The new year has you thinking about your dating life and your reputation more than usual. Be your charismatic self, take the leap and connect with people genuinely and wholeheartedly. Wear a multidimensional update on a classic white polish and get out there. It won't go unnoticed."
"Focus on your work, school and gaining as much experience as possible this year. Now is not the time to be overly social, but instead the time to get serious about your future. Create the career you truly want. In January, wear a deep amethyst that's slightly conservative but still sexy."
"You don't like to waste your time in love, but this year you'll rethink the way you do romance. Start with your manicure and wear something you feel represents your deepest desires. Soft pink, a no-frills approach, will remind you that good things come when you're not searching for them."
"In 2017, cut the drama and aim to be more straightforward when it comes to problem solving (this applies to everything from romantic relationships to the boardroom). Put yourself first for once. A soft shade of aqua with subtle shimmer is unexpected, but it's the first step toward becoming the new and improved you."
"Rethinking your life seems rather typical of the new year, however for you, it's slightly different. Instead of focusing on the physical, you need to start thinking more about how you express yourself and communicate. A modern, sleek black nail polish is clean and simple—much like how you will strive to carry yourself in 2017."
"You are strong and calculated and everyone around you already knows it. In 2017, your spontaneous and even sensual side will take the lead. Set the tone New Year's Eve with a romantic color in a metallic finish to make you feel sexy, strong and feminine."
"You're not the type to go out of your way to attract someone, but luckily for you, in 2017 you have magnetism on your side. A soft pink is understated and lets your personality shine through without being distracting."
"You have a strong way of communicating, a lot to offer and you're unique—those are your best qualities. Being yourself keeps others utterly engaged and a holographic nail polish is the only shade that's as special as you are. Just notice how people first gravitate to your manicure, then your personality."
"It's easy for you to accommodate others—you're incredible about accepting everyone and their infinite differences. However, this New Year's Eve, remind yourself that you can also steal the spotlight. A high-shine silver glitter will get you noticed in the best way."