This '90s Nail Trend Is Back, And We're Obsessed
WireImage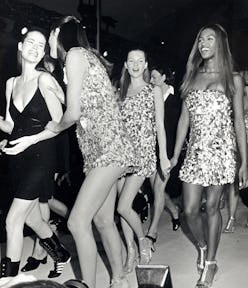 Maybe it's just me, but a big part of the '90s included sleepovers with my best girl friends, watching movies, doing each other's hair and applying press-on nails. And the next morning always consisted of picking those press-ons out of our hair, finding them wrapped in our sheets and stuck to the carpet. That's what I think of when I hear about pre-painted, pre-glued plastic nails. Well, at least that's what I used to think of.
A couple of weeks ago, an Impress Press-On Manicure landed on my desk. While it gave me major nostalgic vibes, I really only kept it around because the design was so pretty (see design below). It wasn't until I was in a pinch that I decided to peel the sticker off each nail and press them on, one by one. I was immediately enamored with how natural they looked, and they literally only took five minutes to apply! The fact that I could experiment with a pretty design without having to book an expensive appointment was amazing.
@elena_velker
A week after I first applied my press-on nails, I'm still wearing them! Considering I can't even get polish to last more than a couple days, I'm so pleased with this faux manicure. They seem to be going just as strong as a gel mani without the damage, and coming in at under $6, this throwback trend has definitely made a comeback in my beauty routine. Sleepover this weekend, anyone?
Nail It