This Genius Nail Art Hack Is So Good, We're Trying It Ourselves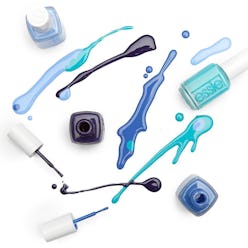 We all love a good nail art look, but creating one yourself is never an easy feat: You buy a ton of shades and try to proceed with the steady hand of a surgeon, then once you get your design just the way you like it, you have to make sure not to ding your nails on anything for at least an hour. When all is said and done, we end up wondering if it's even worth the trouble—but thanks to this genius hack, our next look will be.
Suzie from the binge-worthy YouTube channel Nail Career Education has racked up over a million followers with her intricate techniques and fun designs, but her latest video caught our eye—surprisingly, there's not a nail polish bottle in sight. Using a handful of colored pencils, some nail art brushes and a bowl of water, she creates a floral watercolor-inspired mani that Georgia O'Keeffe would be proud of.
While pulling off such a masterpiece on a tiny surface always takes patience, this method is certainly more forgiving, not to mention cheaper, and just as pretty as polish. See Suzie's amazing hack, ahead.