Halloween Nail Art You'll Actually Wear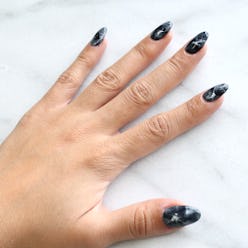 Sure, we love Halloween but when it comes to our manicures, we prefer a look that goes with everything in our closet, not just our costume-party attire. This Halloween, swap the black and orange color scheme and kitschy motifs for something that looks chic far past the 31st. Here, we teamed up with LA-based nail salon Enamel Diction to create 5 super-modern nail looks to get you into the spooky spirit without looking like your average trick or treater.
Nails by Temeka Jackson, Enamel Diction
Evil Eye Cuticles
The evil eye motif is said to keep away bad spirits, which is perfect for all hallows' eve and beyond. To get the look, start with a nude coat of polish and use a thin striping brush to create the motif at the base of each nail. To take your mani up another notch, apply temporary cuticle tattoos on all fingers.
Blood Nails
An update on the classic red manicure, this look is a bloody-good way to get you into the Halloween spirit. To get the look, start with your favorite shade of red polish and let dry completely. Add texture with splatters, spots and drips made from a gel topcoat. Tip: You may want to enlist the help of a technician for this one.
Monochrome Mani
Who said a simple black-and-white color scheme is boring? This mixture of graphic motifs looks modern and is sure to go with every costume this weekend. Start with white nails and use a striping brush to paint a variety of black shapes on each nail.
Silver Fingertips
Color outside the lines this Halloween with a manicure that is sure to steal the show. Start by painting all nails with a metallic silver polish and let dry. Cover the surrounding area with liquid tape (you know, that rubberized liquid that peels away, leaving you with a tidy manicure) and layer a coat of silver nail polish over top. The best part is at the end of the night, you can just peel away the excess and leave behind a flawless metallic mani.
Marble Nails
Reminiscent of lightning on a foggy fall night, these marble nails are appropriate for a spooky evening and beyond. Start with an opaque black polish and use a makeup sponge to dab shades of gray and white over top. Continue to layer shades and splatters until you get the perfect effect.