This Broken Nail Hack Video Has Over 27 Million Views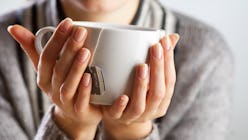 When it comes to beauty mishaps there are two things that really strike a chord with me. One: When my favorite highlighter compact drops and crumbles to pieces (talk about heart-breaking). Two: A broken nail. Although I tend to keep my nails fairly short, nothing is more frustrating than a huge crack on a nail days after a fresh mani. So far at Allure we've managed to find a genius trick that will bring any destroyed compact back to life, but now there's a brilliant beauty hack video sweeping the internet which might be the answer to my nail prayers.
As seen on HelloGiggles , Revelist's Facebook page Eyeliner Addicts posted a video which reveals an easy way to fix a a broken nail. Surprisingly enough, the main product behind this hack is a common household item most of us have in our homes: a tea bag.
In the broken nail hack video the demonstrator cuts a small strip of an unused tea bag, appropriately sized to fit on the nail. She then paints the broken nail with a regular base coat and applies the tea bag strip onto the nail while it's still wet. While, the tea bag won't magically fix your nail, the paper strip acts as an adhesive. just think of it as a bandage holding your nail together. Once dried, she applies another coat of the base polish onto the nail. After this step, she then files off the excess paper and buffs the nail. Finally, she applies a coat of color onto the nail and all signs of the broken nail are gone. Pretty, genius.
How long does this broken nail hack last? I'm not exactly sure, but it does appear to be a great way to hold you off until your next nail appointment. We haven't given this intriguing hack a try at Allure, but I've already engraved the process into my mind for the next time my nail decides to give out on me.
Take a look at the entire process by heading over to the original article on Allure.