10 Five-Free Nail Polish Brands You Didn't Know About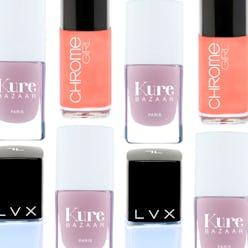 Just because you're trying to do something good for your body shouldn't mean having to sacrifice quality beauty products (especially when it comes to your manicure). Thanks to some of our favorite under-the-radar, non-toxic brands, keeping nails healthy and fabulous is easier than ever. Just so we're clear, for a polish to truly be considered 5-free, it must be formulated without these known toxic ingredients: formaldehyde, dibutyl phthalate, toluene, formaldehyde resin and camphor. The best part about these polishes? Potent fumes won't be an issue, which makes discrete desk-side touchups a breeze.
Treat Collection
Berlin-based polish company boasts a wide range of colors in all shades.
Ella + Mia
Aside from pretty colors, this brand is cruelty-free, vegan and made in the USA.
Chrome Girl
For the girl wanting to make a statement, this polish brand offers a wide range of colors, including glitters–and it's also made in the US. If 5-free is not natural enough for you, they just launched 8-free polishes for spring.
Kure Bazaar
The 85% natural formula consists of wood pulp, wheat and cotton.
Lauren B Beauty
This brand extends beyond their lacquers and offers a full range of natural and organic skincare and haircare products.
Mischo Beauty
Inspired by high-fashion runways, this polish brand gives you the luxury feel with a toxin and cruelty-free polish.
Suncoat
This environmentally friendly nail polish brand is actually made of 70% water–and don't worry, it won't chip in a day.
LVX
LVX is selective about the shades they launch (only a few colors per season). Now you know you won't have the same shade as every other girl in the office.
Priti NYC
As one of the first non-toxic lines on the market, Priti NYC has become a backstage beauty staple
Mineral Fusion
Get the benefits of a wide shade selection and the added bonus of nail-nourishing minerals.