The Top 5 Nail Polish Trends of Summer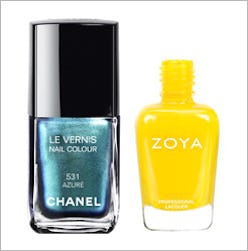 Looking for a fresh nail polish shade to bring to the salon this weekend or DIY at home? Coral is cute, but we're really feeling these five trendy hues for the hot-weather months. Paired with dewy skin and fabulous accessories, you'll be set for any event summer brings your way.
The Trend: Bold Orange
A step up from coral, a step down from neon orange, these bold shades are expensive-looking and party-friendly all at once.
RGB Monarch, $16
Tom Ford Ginger Fire, $30
Zoya Thandie, $8
The Trend: Bright Lavender
Girly girls and romantics will love this vibrant pastel color trend for summer. Try it with inky blue denim, white cotton pieces, and matte red lipstick.
Essie Full Steam Ahead, $8
NARS x Pierre Hardy Nail Duo Yellow and Lavender, $29
Deborah Lippmann Do The Mermaid, $19
The Trend: Mermaid Metallics
Gorgeous on every skin tone, these metallic blues and greens are perfect for the hot days of summer. Pile on a few gold midi rings for a cool, eclectic look.
Chanel Limited Edition Azure, $27
RGB Cerulean, $18
Zoya Rikki, $8
The Trend: Copper Glitter
If glitter skews a little too cutesy for you, try it in a grown-up copper shade. Stunning against summer's blues and greens, it reads as exotic and luxe on hands or feet.
Deborah Lippmann Superstar, $19
Butter London Bit Faker, $15
MAC Temperature Rising in Tropical, $18
The Trend: Lemon Lime
If spring has you tired of sweet pinks and poppy reds, try a refreshing lemon or lime color for the summer months. Pick a shade that suits your skin tone: blue-based for cool complexions and yellow-based for warm ones.
Essie The More The Merrier, $8
L'Oreal New Money, $6
Zoya Darcy, $8