Nail Polish Trends 2014: Fall's Hottest Colors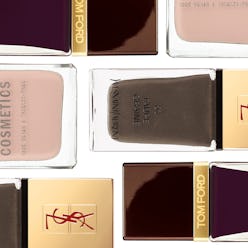 If you're looking for a quick and easy (not to mention affordable) way to invest in the hottest fall trends, look no further than your manicure. From moody blues to creamy nudes, on-trend fall nail polish shades can update your look without breaking the bank. That's a win-win if you ask us.
Berry Reds
Moody jewel tones are majorly trending this season. Deep ruby shades add glamour to a look for day or night.
Dark Chocolates
Strong and elegant browns in deep, rich shades are all the rage this fall and work with any skin tone.
Royal Purples
From deep plums to sparkle-infused amethysts, purple shades bring a regal touch to any manicure.
Shiny Metallics
Add an eye-catching pop to your beauty look with luxe finishes in silvers and golds.
Moody Navies
Inky blues are the new black. In dark shades, the classic color gives you an edge without going over the top.
Dusty Neutrals
We're currently obsessing over greige pinks and perfect nudes. Finish off with a matte topcoat for an unexpected touch that keeps the look from being mundane.