Nail Polish Ideas To Try Right Now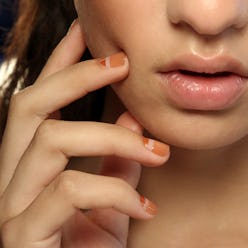 Craving some fresh manicure inspiration? Here are a handful of new nail polish ideas straight from the Spring 2015 runways sure to give your weekly mani the extra flair it's been needing.
Read more: Negative Space Manicures For Spring Are So Trendy & Just As Easy To DIY
Manicure Idea: Half Moons
Zoya's Rebecca Isa opted for crescent shapes along one side of the nail in the most spellbinding glitter polish we have ever seen at Zimmerman. For a truly "naked look" skip the shine by forgoing both a base coat and topcoat. Applying a silvery-gold on the outside two-thirds of each nail completes the look.
Photo: Courtesy of Zoya
Manicure Idea: To Dye For
JINsoon's Jin Soon Choi kept it clean and modern with a textured, tie-dye-inspired print for Tibi. After applying a base coat, slather on two layers of a grainy white nail polish and then use a black shimmer polish to paint short vertical strokes down the center of both ring fingers.
Photo: Courtesy of JINsoon
Manicure Idea: Art Inspired
Aspiring to create a unique piece of art on each nail, Michelle Saunders of Essie created a fresh watercolor-esque manicure for Rebecca Minkoff. To get the look, apply one coat of light blue to the bottom half of the nail and an aqua to the top half. With a striping brush, create a horizontal line in between both colors and finish by smearing with a clear topcoat.
Photo: Courtesy of Essie
Manicure Idea: Bare It All
When in doubt, go with the classic nude manicure; but for some extra oomph, take a cue from OPI's Miss Pop. At Houghton, she applied a base coat to nails, followed by two layers of sheer nude lacquer and then sealed with a matte topcoat. For a twist on this uberfeminine look, apply three nail crystals down the center of your middle finger while polish is still wet.
Photo: Courtesy of OPI
Manicure Idea: Clean White
As seen at Tess Giberson, the clean, white manicure is back this season. Choi applies a base coat before two layers of white nail polish and finishes with a matte topcoat.
Photo: Courtesy of JINsoon
Manicure Idea: Go For Gold
Butter London's Katie Jane Hughes created a bright manicure with a luxe flair for Nicole Miller. Apply two coats of a bold orange to all nails. Cut metallic gold-striping tape to fit the width of your nail and apply horizontally to the middle of each pinky. Get creative by sealing with a base coat for a soft glow.
Photo: Courtesy of Butter London
Manicure Inspiration: Orange Crush
Isa used negative space to divide the nail for a color-blocked effect at Creatures Of Comfort. Prep the nails with a base coat and let dry. Add a striping tape one-eighth above the cuticle and paint the top part of the nail with a light orange. Paint the lower part of the nail with a dark orange and peel off tape. Seal with a topcoat.
Photo: Courtesy of Zoya