Marie Von Behrens-Felipe's Line Sonsie Co-Signs The Slow Skin Care Movement
Meet the creator's new brand.
Courtesy of Sonsie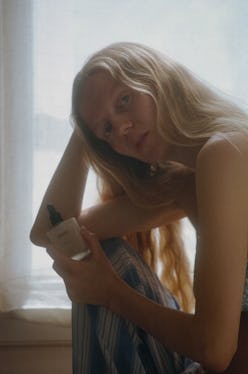 We may receive a portion of sales if you purchase a product through a link in this article.
'Basic' has become a dirty word on social media, often used to describe fashion and beauty trends that have become overdone. The exception is when the adjective is describing one's skin care routine. In lieu of verbose lineups of products stuffed with potent actives, more and more beauty content creators, editors, and dermatologists are endorsing pared-back regimens consisting of just a few core products that cushion your skin with skin barrier-supporting ingredients. Model and fashion influencer Marie von Behrens-Felipe (@mvb) is one such example, co-signing the slow skin care movement with the launch of her new line of essentials called Sonsie.
Known for her minimalist approach to fashion and content creation, Behrens-Felipe's Sonsie consists of three staple products: Sonsie Super Serum ($64), a calming treatment; Basic Balm ($22), a slightly glossy, not sticky, lip moisturizer; and Multi Moisture Mask ($48), a rich hydrating formula that can be used as rinse-off treatment, overnight mask, or leave-on moisturizer. The brand is vegan, cruelty-free, and follows EU ingredient regulations, including formulating without sulfates, phthalates, parabens, and silicone. All three products come in simplistic white tubes or a glass bottle with the brand's logo stamped in black.
While a less-is-more approach to skin care is commonplace in Behrens-Felipe's native Hamberg Germany, she says she really adopted the mindset after living a face-paced lifestyle in New York and traveling for work took a toll on her complexion.
"I never had bad cystic acne, but I had genetic milia and I would experience breakouts on my chin," says of her pre-COVID complexion. "During the time spent at home, I went back to cooking and I cut out all of the products I was trying that were sent to me for work. I was using too much and ones that were too rich for my skin. I figured out that I needed products that were really simple, so I started playing around with the idea of a skin care line. Two-and-half years later, here we are."
Behrens-Felipe says the product lineup came out of selfishness because she wanted to create the exact formulas she could never find. "We started with the serum because we wanted a one-bottle wonder that would really calm stressed skin," she shares. "The mask came next because there would be tons of days where I felt like I needed extra moisture – especially going on long flights. I started smearing it everywhere and would use it as a moisturizer in the winter. Lastly is the lip balm because I think every girl struggles to find the perfect one. I wanted a formula that had the right consistency that was gooey not sticky."
The brand's name further drives its mission home. Derived from the Scottish word "sonsy", meaning "to have a healthy inner and outer appearance", Behrens-Felipe says she decided on it early on in the process after a friend put her on to it, as it perfectly embodies her vision.
Launched just in time for the slow, hazy days of summer, discover Sonsie's first three products, below.
Shop Sonsie's Skin Care Products