Women of Style: Catherine Walsh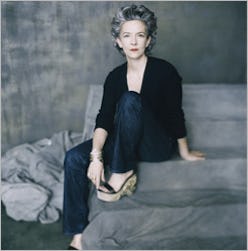 This week I am so excited to feature the ultimate beauty insider and one of my foremost style inspirations, Catherine Walsh. As the Corporate Communications Senior Vice President of one of the world's premiere beauty and fragrance houses, Coty, Inc., Catherine is an icon within the industry of brand building — she is responsible for developing incredibly successful fragrances for the likes of Balenciaga, Marc Jacobs, Jennifer Lopez and Madonna, to name a few. Beauty resume aside, Catherine has an equally impressive and enviable eye for fashion. I am obsessed with everything she wears! So check out her insightful story below – you will be so inspired! –Mandana Dayani
Her first job in the beauty industry… "I was hired at Revlon to create seasonal colors. It was like playing in the sandbox every day. I had to create colors for lipsticks, eye shadows, nail lacquer, etc. and name them. One of my favorite names was One Perfect Coral."
One of the milestone moments in her career… "Signing a licensing agreement with Jennifer Lopez. We've worked together for over 10 years and sold over two billion dollars in fragrances. Also, signing Balenciaga as a fragrance license. It took six years of conversations. I'm a person who believes all good things come to those who wait."
Catherine, wearing a bracelet by Beau Staley. Photo: Courtesy; Introduction Photo: Paolo Roversi.
Her typical day… "Rise at 4:30am. Work out with Mark Campbell from 5 to 6:15am. The rest is a gamble. I travel a considerable amount of time and work between two offices in New York and Paris. No day is the same. My position is all about collaboration so I am with various groups of people all day long and make decisions all day long as well."
The most challenging part of her job… "Personality management."
The best career advice she's ever received… "Don't get caught up in any one else's spin. "
Her career role model or mentor… "I have many and can count on both hands the people that have changed my life. As a role model, Sarah Jessica Parker. Smart as a wip, extremely cultured, wise, nobel, caring and compassionate. Oh, and did I say fun? She has taught me how to keep it real."
"As a mentor, Michele Scannavini. He is the CEO of Coty and my boss. I have a lot of respect for him as a business man as well as a humanitarian. Most importantly he is a firm believer in working hard and playing hard."
Catherine Walsh and Sarah Jessica Parker on the night they won the 2006 FiFi Award for Best National Advertising Campaign. Photo: Getty Images
How she collaborates with people… "I've developed a formula that just happened to work for me. I start the creative process by asking a series of very direct questions that leave little room for indecision. This jump starts the creative process and I always revert back to them to keep everyone thinking alike."
How she selects the brands or people she wants to work with… "There are so many brands and so little time! Instinct has a lot to do with it. Heritage and legacy add a lot. Consumer research confirms my instinct or not. Most importantly we are looking for a collaboration with the same goals in mind and an aligned vision to achieve our goal. Sounds simple, but it's not."
Her advice for anyone trying to make it in the beauty industry… "Focus on developing a vision. The most important skill needed to succeed is to have big ideas. You can find many talented people to execute your vision but coming up with the idea is the hardest part."
Catherine and Gwen Stefani at Fashion Group International's 26th Annual Night of Stars. Photo: Courtesy
What to wear on a job interview with her company… "We have a very loose dress code. I recommend wearing what makes you feel comfortable. You should feel great walking in the door. If you express yourself best in jeans and a t-shirt accessorized with fabulous shoes or jewelry then go for it. I am in the image business but I judge people by their brain."
What she typically wears to work… "I have a few uniforms comprised of clean lines, classic colors, minimal detail. I'm petite, some say compact, so any item of clothing has to be simple. I drown in too much material, detail or print. I'm a minimalist at heart so my wardrobe is based on simplicity however I have a healthy obsession with fine jewelry. When I travel I take half the clothes and double the jewelry. My finishing touch is red lipstick."
Her fall shopping wishlist… "Anything Celine, Jil Sander or Rick Owens plus a custom pair of coral and blue topaz earrings from the jeweler Beau Staley."
Catherine's favorite brands, Team Zoe's picks: Rick Owens jacket, $2150; Jil Sander boots, $995; Celine bag, celine.com for more info.
Her beauty icon… "Without question my mom. She's 80 years old and ran 8 miles on her 80th birthday. Is that crazy or what? She's a complete inspiration and also embodies beauty from the inside out."
Her industry crush… "Emily Weiss from Into the Gloss."
Beauty products every woman should have in her medicine cabinet… "Nivea, Fresh Sugar Facial Scrub, Lancaster Suncare, red lipstick, a signature scent."
Balenciaga Florabotanica Eau de Parfum 1oz., $70; Nivea Creme Travel Size Tin, $1; Rimmel London Lasting Finish Lipstick by Kate in 111, $6; Lancaster Sun SPF Cream for Face, lancaster-beauty.com for stores; Fresh Facial Scrub, $55.
Her signature red lipstick… "If I'm sitting home reading a book I wear red lipstick. I don't feel dressed without it. The luxury of working for a beauty company is that I created my own perfect red in our lab in Monaco about 12 years ago. It's a perfect balance of blue and yellow red and it's matte. Anything shiny doesn't work for me."
The new beauty product she's obsessed with… "Aesop Shine hydrating oil for hair."
Her skincare standbys… "Lancaster's 365, Fresh Facial Scrub, Anthelios 50+, Bobbi Brown Extra Eye Balm and many facials by Nathalia at Kimara Ahnert."
Three things we don't know about her… 1.) "I built a house 11 years ago with the architect John Pawson. It was his first home in America and a complete labor of love."
2.) "When I do get to my home in Telluride, Colorado I have been known to climb 14,000′ peaks!"
3.) "I don't own a TV and never have. I'm a book worm."
Catherine in Colorado. Photo: Courtesy