The Mistakes You Make When Shopping For Makeup (And How To Fix Them)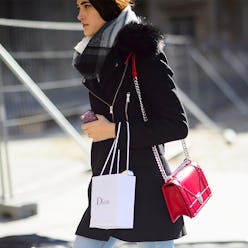 We'll admit it. We've had our fair share of disappointing makeup purchases over the years—we're blaming them on poorly lit aisles, online shopping (sort of) and confusing beauty trends. But luckily for you, we've learned our lessons and are sharing our tips that make every trip to the beauty department worth it. Here, the 5 most common missteps and how to correct them. You're welcome.
Not Using Natural Light
Department stores and makeup aisles don't always have the best lighting, which can lead to the wrong match for your skin tone. The next time you're testing foundation, concealer or blush in a store, stand by a window or step outside to see how it looks in the sunlight.
Not Doing Your Research
How many times have you purchased a product only to be disappointed with the formula? Avoid dreaded buyer's remorse by reading online product reviews before you drop the cash.
Not Going To The Store
Beauty shopping online is convenient, but it's not the best way to try something new—especially when it comes to color. Shades can look totally different on a computer screen (or even worse, a tiny phone screen) than in person. Our advice: Use online shopping to replenish your stock of products you already know and love.
Blowing The Budget On Trends
We love experimenting with trends as much as the next girl, but spending a fortune on a cobalt eyeliner isn't the smartest investment. Instead, lay down the big bucks for staples you know you'll get some real use out of, like foundation, mascara and concealer. Look to more affordable brands for the seasonal colors you'll use only a few times.
Not Keeping It Clean
Sure, swiping lipstick on the back of your hand gives you an idea of pigment and finish. But before you go applying a tester on your mouth, ask a salesperson to disinfect the product for you first. Or go the extra mile by bringing in your own lip brush. Same goes for everything from foundation to eye shadow.