The Makeup Look You Should Wear To Work Tomorrow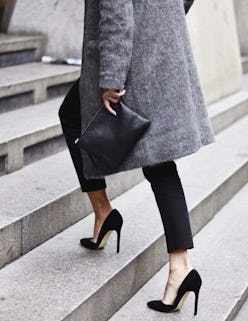 We tend to look our best on the first few days of the week but by Thursday our makeup choices quickly turn from beautiful to boring. While you may be more concerned with clocking shut-eye than waking extra early to painstakingly paint your face, trust us when we say you can get the best of both worlds. Sleep and the perfect makeup look. Meet your new go-to routine for days when you want to hit the snooze button and still turn heads at the office (in the most professional way, of course).
Lead photo: Pinterest
Cubicle Chic
The Complexion
If your skin looks amazing, the rest of your makeup will just come together. Start with an illuminating primer and mattify skin with a pressed powder. Make your complexion glow with a few swipes of highlighter on the cheek bones, chin, brow bones and bridge of the nose.
The Lips
This look is all about the lipstick and since you won't have much time to reapply in between meetings, make sure to apply it correctly. Line and fill in the entire lip with liner and go over with a matte lipstick in the same deep red shade.
The Eyes
Skip the eye shadow altogether—you're in a hurry, remember? A few swipes of mascara will give your eyes some life in seconds.