The Best Mascaras For Your Lash Type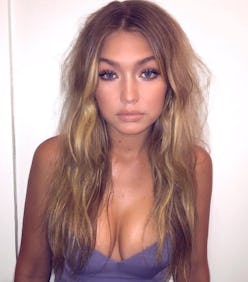 Because finding the perfect mascara for your lash type is much like finding a mate, today we're playing cupid. Whether your lashes are less endowed or you're sporting a set of fabulous extensions, we've rounded up the best mascaras to enhance what you're currently working with. Now that's a codependent relationship we can get behind.
Lash Out
If You Have Straight Lashes...
Use this mascara in conjunction with your lash curler and you won't believe your eyes. This formula wraps each lash and dries it in place to hold its shape without flaking or smudging.
If You Have Lightly Colored Lashes...
If your lashes are too light for a heavy black mascara but you still want a defined look, this primer also looks amazing when used alone. Get a feathered look and tint lashes with this gel formula while still looking natural.
If You Have Thin Lashes...
The curve of this mascara brush allows you to get those tiny, hard-to-reach lashes while the super-dark pigment defines them like no other.
If You Have Eyelash Extensions...
Big, fussy mascara wands can tug at your lashes and tear out your extensions. This formula defines lashes while the tiny bristles coats them without pulling.
If You Have Watery Eyes...
Allergies and irritable eyes can cause your mascara to run. A waterproof formula stays put all day long without smudging or flaking.
If You Have Short Lashes...
This tiny, precision wand gets even the shortest lashes to define and lengthen in just a few swipes. It also works wonders on those bottom lashes.
A Season Of Chic, Curated For You
How to get over $300 worth of spring's coolest accessories, beauty products and styling tools for only $100.