The Best Makeup Looks From The 2015 VMAs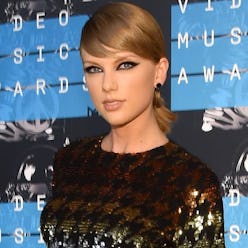 While the VMAs' red-carpet ensembles were over-the-top, outrageous and totally unwearable in any normal social setting, the makeup looks you can actually try IRL. From Taylor Swift's bold cat-eye to FKA Twigs' classic red lip, we rounded up four killer beauty cues to inspire your next night-out. Click through now to see who caught our eye, then shop the products to get the look at home–no beauty dream team needed.
Taylor Swift's Navy Cat Eye
Leave it to Taylor to make the been-there-done-that cat-eye feel fresh again. For the beauty veteran: take the look for a spin with a navy eyeliner and create a feline shape with a flick on the inner corners, as well as the outer.
Photo: Getty Images
Get The Look:
Selena Gomez's Flawless Foundation
On a night where VMA-goers try everything to shock viewers, Selena proves that less is more. If you prefer the natural look, pair a matte, full-coverage foundation with a neutral shadow and glossy lip.
Photo: Splash News
Get The Look:
FKA Twigs' Classic Lip
As seen on FKA Twigs, you can never underestimate the power of a classic red lip. With dewy skin, a subtle winged eyeliner and natural curls in her hair, this look is beautiful enough to get you noticed without stepping too far out of your comfort zone.
Photo: Getty Images
Get The Look:
Cara Delevingne's Bold Brows
Cara proves time and time again that bold, groomed brows are all you need to make a statement. If you aren't blessed with the Delevingne gene (who is?), use a tinted gel to simultaneously comb and fill in less endowed brows.
Photo: Splash News
Get The Look: