The Best Highlighter For Your Skin Tone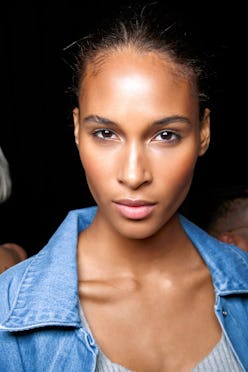 When it comes to finding the best highlighter for your skin tone, it's best to call in the experts. With shades ranging from glittery golds to shimmery silvers, the world of illuminators can be seriously blinding. Here, we tapped the legendary Pat McGrath for tips on finding the best highlighter for your skin tone. If anyone knows a thing or two about glowing skin, it's the brains behind our favorite runway beauty looks and the soon-to-be-cult-favorite highlighter, Skin Fetish 003 launching on patmcgrath.com tomorrow at 12pm ET.
Go For The Glow
Know Your Undertones
"Choosing a flattering highlighter for your skin tone can be really simple. As long as the product color is slightly lighter than your skin tone it will work as a highlighter. You can either choose a color that is more harmonious with your skin undertones for a more natural look or a color that is the opposite for a more dramatic effect."
Go Lighter Than Your Foundation
"Darker skin tones can absolutely wear cooler or more silvery shades of highlighter. The key is to make sure the highlighter is not too many shades lighter than your foundation and most importantly, keeping it sheer."
Gold Highlighter Can Replace Your Bronzer
"Lighter skin tones can definitely wear more golden shades of highlighter. It can even add warmth to your complexion and give it a sun-kissed, bronzy look."
Know How To Apply It
"My favorite method of application for creamy highlighters is using my fingertips and I prefer brushes for powder highlighters. No matter which product you use, start with a small amount and add layers for more intensity. It should look like a second skin, not like heavy makeup."
Choose Your Products Wisely
"Cream highlighters fuse seamlessly with other creamy, moisture-rich products. They work beautifully over moisturized skin or liquid foundation. I love to use powder highlighters on top of cream highlighters for that extra pop of light. Layering products is key when you want long lasting results for more intensity and dimension."
Know Where To Apply It
"Highlighter looks best when applied to the top of the cheekbones, bridge of the nose, inner corner of the eyes, center of the eyelids, under the brow and on the Cupid's bow. If you're showing some skin, highlighting down the center of the legs, tops of the shoulders and the collarbones gives the look of youthful glowing skin."
Keep The T-Zone Matte
"The biggest highlighter mistake you can make is to lose control and apply it in all the wrong places—this could be mistaken for sweaty or greasy skin. If you stick to the areas I mentioned and use a touch of mattifying powder in your T-zone, you shouldn't have any problem creating a gorgeous youthful glowing complexion."