How To Treat Your Worst Skin Concerns With Makeup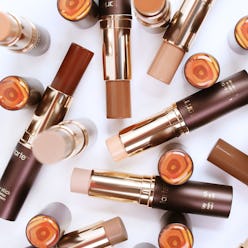 When it comes to your most frustrating skin concerns, covering them up is all well and good, but treating them is ideal. We all have our own beauty battles, but luckily, our favorite Tarte skin savers achieve both objectives. Not only do these products disguise redness, tired eyes and breakouts, they're also packed with Amazonian clay, vitamins and antioxidants to help hydrate and improve texture and tone over time. Sound too good to be true? It's not. Scroll through to see three women show off their totally real (read: unretouched) side-by-side results.
Slay With Clay
Got redness? This new powder-to-liquid Clay Stick Foundation gives you flawless skin—even when you're on the go. The formula packs enough long-lasting pigment to hide all types of redness, including rosacea, on any skin tone. And since it's free of talc, gluten, sulfates and parabens, you don't have to worry about flare-ups or irritation.
Nutrients like vitamins C and E in the Clay Stick Foundation provide brightening benefits ideal for covering up dark circles. The formula melts into the skin for medium-to-full coverage that looks natural and keeps you radiant and bright-eyed all day. Bonus? The vitamins provide free-radical protection so your complexion stays balanced and healthy.
Whether you struggle with dry skin or lean toward the oily side—or land somewhere in between—you'll benefit from the clay in the Clay Stick Foundation. The key ingredient hydrates while mattifying, helping to revive skin and keep it healthy from the outside in.
Now that you've balanced and fed your skin the best ingredients for slaying your beauty battles, it's time to add a touch of color to liven things up. The Clay Play Face Shaping Palette is packed with the same skin-loving clay but in a 12-pan shadow and contour package that aims to warm up your complexion and sculpt your favorite features. The vanilla extract smells amazing and provides natural antiaging properties, while the clay helps your contour last all day without creasing or caking.
Think of this product as a foundation for your eyes. Packed with Amazonian clay for all-day wear, the Lid Lock Clay Eye Base grips like an eye shadow primer and can also be worn alone as a neutral, matte shade.
Who doesn't need help in the lash department? Luckily, the Gifted Amazonian Clay Smart Mascara does it all and now it's avaliable in limited-edition, eco-chic packaging. Not only does it make your flutter look more voluminous, it keeps your lashes hydrated and stronger for a healthier fringe over time.