The Ultimate Guide To Surviving Summer (Without Sabotaging Your Hair And Makeup)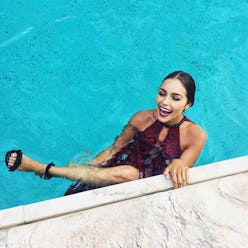 It's pretty obvious that summer is everybody's favorite season, and with beach days, long weekends and constant BBQs on the agenda, there's no question why. But while we can all be blinded by the various vacation vibes, the sunniest months of the year also have a dark side. As if sunburns aren't painful enough, watching our makeup melt off and our hair frizz up certainly is. But before we let you skip out on summer altogether (although Iceland does sound beautiful), we've rounded up the best tips for surviving even the hottest of days—and yes, your hair and makeup will still look fabulous.
Dive Into Summer
Know How To Cure A Sunburn
You've slathered, dabbed and dotted sunscreen on every inch of your body, yet somehow it happened: You're as red as the soles of your Louboutins. Maybe it was cloudy, so you didn't think to reapply, or maybe you just missed an entire limb. Either way, you're suffering and you're about to start shedding layers. Need some help in this time of discomfort? Click here for seven products to heal and hide your painful sunburn, quickly.
Do Your Hair And Makeup Without Sweating
We've all been there: It feels like 100 degrees outside, and you're in your bathroom trying to get ready. The more you fuss with your hair, the more you sweat off your makeup, and the longer you take on your face, the frizzier your mane gets. Sound familiar? Okay, so you can't control the weather, but you can click here for six genius tricks to help you prep your beauty look when blasting the air conditioner isn't cutting it.
Swap Out Your Favorite Beauty Products
Sweltering temps call for products that are lightweight, effortless and easy to apply and transport from your house to the beach. Who wants to fuss with thick creams and smudgy makeup when facing the warmth? Click here for ten makeup and skincare essentials to switch to so you can achieve the ultimate glowy summer look without the hassle.
Use Melt-Proof Makeup Tricks
As summer days are in full effect, we're on the hunt for tricks to prevent our makeup from melting. Instead of fussing with multiple products, click here for tips on streamlining your routine for a sweat-proof look that lasts all day.
Don't Spend A Fortune On Summer Beauty Trends
Trends come and go every season, so why invest in a fad when you can get the same look for less? Trust us, looking like a million bucks doesn't have to cost a ton. Don't believe us? Click here for the biggest hair and makeup trends of the summer and the products you need to achieve them—nothing is more than $15. Get started on these now ... you can thank us later.
Protect Your Hair From The Elements
We know we're not the only ones who struggle with dry, lackluster hair every summer. Thanks to constant exposure to sizzling sun, chlorine and saltwater, it's important to show your locks some extra love in the super-hot months. Click here to learn how to keep your mane bouncy and healthy, no matter what elements you expose it to.
Keep Your Hair Out Of Your Face
The only thing worse than triple-digit temperatures is having to brave the heat with your hair draped around your neck. In the interest of chic relief, we found five out-of-the-way hairstyles to keep you looking and feeling cool all summer. Click here for the most unexpected but totally wearable hot-weather hairstyles. The best part: There's not a basic pony in sight.
When In Doubt, Wear Your Hair Wet
One of the biggest A-list-approved trends of the moment is wet (or wet-looking) strands. While some of us were iffy about it at first, the just-stepped-out-of-the-shower look reads surprisingly polished when done right. With just a few simple tricks, you can pull it off everywhere from the office to date night. Click here for 11 of our favorite celebrity takes—from Kim Kardashian West to Priyanka Chopra—that are so easy to try.