The Makeup Products You Need To Ditch For Spring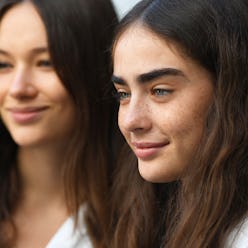 Trends come and go, but true style is about how you adapt to the constant evolution. To help you always put forward the most stylish version of yourself, we're breaking down four makeup looks to leave behind for spring, and four fresh trends to try ASAP—plus the products you need to achieve them.
Ditch: Luxe Metallics
Heavy metallic eye shadows are so last season. You'll still have your opportunity to get your shine on, but for now, stash the super-glittery shades.
Try: Glossy Shadows
We told you you'd still get your chance to shine. Opt for shadows with a glossy finish rather than ones packed with shimmer.
Try this clear gloss as a topper over your favorite shadows—you can control your level of shine without a sticky feeling.
Ditch: Heavy Smoky Eyes
We live for a dark, sooty smoky eye when it's cold out. However, as the temps warm up, swap for something equally as classic but lighter and brighter.
Try: A Colorful Cat Eye
A classic cat eye is a solid substitute for a smoky look. This spring, update the ladylike technique with a pop of color.
A tiny swipe of blue eyeliner along the flick of your cat eye delivers the perfect update. Bonus: Blue brightens up the whites of your eyes.
Ditch: Vampy Lipstick
A wine-stained lip is the perfect complement to your winter whites, but this spring, try something that goes with your fun and flirty dresses.
Try: A Bright Pout
Whether you go for an orangey red or a fuchsia pink, a bright lip will ring in warmer days.
Opt for an opaque shade with a shiny finish for a look that feels warm-weather appropriate.
Ditch: Maximalist Makeup
We saw a major influx of color last fall (which was new for cold-weather months), but this spring will tone it down a bit.
Try: Minimalist Makeup
Let your natural beauty show by choosing neutral colors and playing up your best assets, like your brows, freckles, pretty eyes or lips with minor makeup tweaks.
We all have a few things that can use some concealing (we're looking at you dark circles, blemishes and redness), but keep your makeup light and don't you dare hide those freckles. Try a sheer foundation or tinted moisturizer with a radiant finish to give you that sweet, dewy look.