These Eyeliner Trends Are About To Blow Up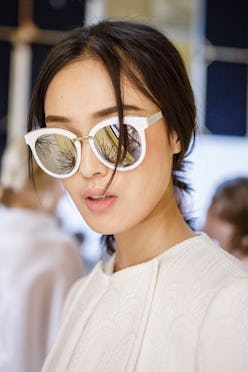 We'd venture to guess that the only time you tend to get ultra-creative with your makeup look is when it comes to your eyeliner. Us too. There's something about a longer flick, a thicker stroke or a new color that makes us feel like a newer, better version of ourselves. But if you've already run out of ideas for updating your go-to cat eye, we have some new looks to inspire your next makeup experiment. If the eyes have it, as they say, we want yours to be the best ones out there.
Walk The Line
Deconstructed Cat Eye
Gone are the days when your liner only spanned the space between the inner corners and shortly past the lash line. Whether you're looking to add an edge to your eye makeup or in the mood to infuse color without going overboard, a touch on either side is all you need.
White-Out
This spring, ditch your go-to black liner for a fresh update in white. A stroke along the upper lash line makes the eyes appear wider, and it feels crisp and clean for warmer months.
Electric Eyes
There's no better way to stand out this spring than with a liner in a bright pop of color. An electric blue looks amazing on all colors and skin tones, and appears impossibly cool in the thinnest of strokes.
High-Shine Lines
Your ordinary black eyeliner gets an update this spring, and it's guaranteed to make you shine. Apply a black kohl liner along both lash lines and in the waterline, then slightly smudge it with a face gloss. The effect will be an updated version of classic black that looks modern for any occasion, from pool parties to a night on the town.
Silver Centers
You already know that a light shade of shadow on the inner corners makes your eyes look brighter and wider. This season, the inner corners are accentuated more than ever before. A silver liquid liner takes your look to the next level.