Halloween Makeup Inspiration Straight From the Spring 2017 Runways
Antonio de Moraes Barros Filho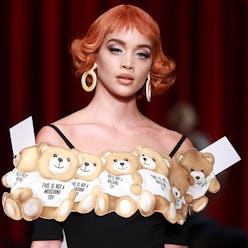 If you're a fan of Halloween, then you already know that choosing a costume can be the hardest part. One of the best things about being a beauty junkie though, is that your hair and makeup skills really come in handy for October 31st. This year, the Spring 2017 runways at fashion weeks across the globe involved so many looks that provide the perfect Halloween inspiration. The best part? You can re-create them all yourself for the festivities. Whether you're a fan of the paper dolls from Moschino, or the galactic space creatures from Maison Margiela, we've got you covered.
Paper Dolls at Moschino
Get yourself a bobbed wig with some micro bangs, and load up on funky costume jewelry. Print out your favorite cartoon animals and add them to any LBD in your closet.
Floral Beauties at Preen
For those of us who enjoy the most intricate details, load up on some faux flowers from your nearest art supply store. Adhere individual petals on to your face with eyelash glue for a full botanical effect.
Galactic Friends at Maison Margiela
Take the glittery lip trend to a new level when you apply silver glitter over a clear lip gloss. Get creative and make your own futuristic helmet and bionic ears.
Disco Queens at Olympia Le Tan
Step back into the '70s and get into the groove with this bright get-up. Accent your eyebrows with a dotted pattern, and grab some electric blue eyeliner while you're at it. Don't forget to pick out a funky set of earrings.
Snapchat IRL at Desigual
Snapchat filters are everyone's latest obsession, so why not turn them into a real life look? Draw on your own puppy face, and take even better selfies.