Our New Favorite Way To Apply Bronzer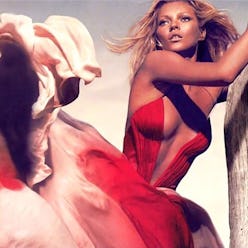 If you want a sun-kissed look, one of our new favorite tricks is to apply gel bronzer with a makeup brush. This method is totally idiot-proof since gels are notoriously easy to use and getting the product even is a total cinch with the help of a large bronzer brush. Use this method the next time you're running straight from work to a dinner date—we promise the added radiance will pair well with candlelight. Here, 5 of our favorite bronzer gels.
Photo: @ctilburymakeup
Protect your face with an all-over bronzing gel that has the benefit of SPF 15 as well as the light glow.
Add some shimmer with this gel and be a bronze goddess, literally.
The velvety feel to this cream leaves any complexion smooth. A makeup brush makes this bronzing gel easy to apply instead of using your hands to rub in.
Radiate your face with this creamy fluid that is weightless and soft.
Blend this formula over your face for an effortless sheer look.