It's Official: This '80s Contouring Technique Is Back And Better Than Ever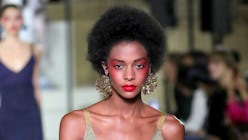 Draping (verb): a contouring technique credited to makeup artist Way Bandy that involves sculpting your facial features with blush. You might remember reading about it this summer when Marc Jacobs launched his Air Blush Soft Glow Duo and, in a statement, noted Bandy's influence on contouring and suggested consumers try his draping technique with the new two-toned powder blush. Or, you might have actually tried this look, as it was a trend that spanned decades, including the late '70s, most of the '80s, and maybe even into the early '90s. While it went away for awhile (and was replaced by several egregious contouring trends over the past couple years), makeup artists are trying to bring it back this season.
In addition to Jacobs' launch, we've seen draping a couple more times over the past year—Pat McGrath did it for Gucci last season and Tom Pecheux broke it out at Brandon Maxwell this season in New York City—but it's really been here, in Paris, that we've seen a resurgence of colorful contouring. At Emporio Armani yesterday, makeup artist Linda Cantello buffed a cream blush—a hue that was a mix of pink, coral, and bronze—high up on the cheekbones, around the outer corners of the eyes, and up onto the temples. "It's that '80s thing, although we're not applying it along the jawline. That's too '80s," she laughed.
Photo Credit to Peter White/Getty Images
Then today, in a surprise turn of beauty events, we saw draping again: first at Chanel, where makeup artist Tom Pecheux applied fuchsia blush along the cheekbones and up onto the temples, and second at Kenzo where makeup artist Lynsey Alexander did the same thing in red. "It's a bit inspired by Antonio Lopez, Pate Cleveland, and girls from that era," said Alexander, who buffed a red cream pigment all around the ocular bones using the M.A.C. 188 Brush, keeping the color more opaque at the outer corners of the eyes and tops of the cheekbones. "The trick is using two brushes—one to apply and one with no color to blend—because if you use the same blush you just add more and more color and you lose the finesse. So you have to apply, blend, apply, blend, apply, blend, and do it in layers."
To keep draping from looking too retro, Pecheux, Cantello, and Alexander all used the same trick—matching your lipstick to your blush. "If you look at pictures from the '80s, girls were wearing different colors on their eyes, cheeks, and lips. Doing it all in one color freshens it up and makes it feel cooler," she said, adding that minimal foundation is also important. "The minute you cake the face in foundation, it's going to look retro."
To find out more about draping, check out the full article on Allure.
By Sophia Panych, Digital Deputy Beauty Director.