The Biggest Makeup Mistakes And How To Fix Them, Straight From A Makeup Artist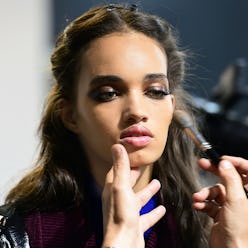 Kiss And Makeup
As noble as our efforts might be to stay on top of our makeup application game, we're all vulnerable to mistakes, some of which we don't even realize we're making. We recently spoke to Pamela Faller, professional makeup artist for Mehron Makeup, to sound off on the most common makeup mistakes she's observed throughout the years—and how to avoid them. Read what she had to say below and see the error of your ways.
"A lot of people make the mistake of not using a good vitamin-rich primer to keep their makeup in place for extended wear. Within a few hours, they're wondering why their makeup is transferring. Pick a primer with antioxidants to nourish, mattify and fill in fine lines. The goal is to create a smooth canvas that will help your makeup last all day."
And primetime doesn't stop there: "Like foundation needs a good skin primer, your eye shadow does, too! The skin around the eyes is the thinnest on the body so, of course, shadows, creams and shimmers will crease, fade and smudge. If you don't apply an eye primer, you won't have lasting eye makeup."
"No one has perfect skin, so instead of packing on your foundation to cover up discoloration or blemishes, use a neutralizing formula like Mehron's Correct-It palette. This six-color palette contains a lightweight, creamy concealers in every shade needed to correct skin imperfections, so you can eliminate the need for packing on heavier creams and powders."
"Everyone thinks the only way to mattify an oily complexion is to use setting powders. While that may be great for some, it can also create issues, especially for those with acne-prone skin. Instead of continuing to powder throughout the day, eliminate shininess altogether with an anti-shine gel to banish prone areas on the face like the forehead, nose and chin. A little goes a long way, so there's no need to add layers upon layers of powder."
"What's the point of doing all that beautiful work if you don't set and seal it? Setting spray is the final touch to ensuring a long-lasting, fresh face. It will keep makeup intact, prevent transferring and keep your face protected. For those with extra-sensitive skin, it also doubles as a primer to protect skin from anything heavy like adhesives and glitters."