Makeup Tricks For Looking Good On Camera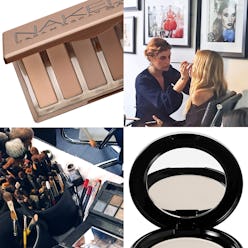 Ever wondered how celebrities look so good on camera? You're not alone. Whether you have a big day coming up—hello, fall brides—or you're just looking to step up your selfie game, having a few go-to makeup tricks that help you look better on camera is always useful. Here, we went behind the scenes on our EIC's new TV show, Fashionably Late With Rachel Zoe, to get the secrets straight from her makeup artist Sarah Uslan. Follow these rules for looking your best at all times and shop the products that always get the job done.
Tune in to watch Fashionably Late with Rachel Zoe tonight at 10:30pm on Lifetime and join the conversation using #fashionablylateRZ
Always Be Camera Ready
Rule #1: Start With The Perfect Base
No only does primer keep your makeup on longer, it also prevents it from settling into fine lines and creasing—these are the things that cameras can easily pick up on. Sarah likes to prime the entire face and go over the T-zone with a mattifying gel to keep skin from becoming oily over time.
Rule #2: Don't Choose A Dewy Foundation
While we love supple-looking, dewy skin, any sort of shine can make you look greasy on camera. Instead, Uslan recommends applying a matte foundation.
Rule #3: Even Out Your Skin Tone
Have you ever seen a photo of yourself where your face doesn't match your body? Prevent this from happening again by using a bronzer to even the colors on your face, neck and ears (yes, your ears too).
Rule #4: Say "No" To Sparkly Makeup
Wearing shimmer on camera is never a good idea. No matter how tiny the glitter flakes are, it can read as shine, which as we know from rule #2, translates into oily skin on camera. Instead, opt for matte eye shadows, lipsticks and blushes.
Rule #5: Always Carry A Translucent Powder
Sarah recommends carrying a translucent powder in your clutch to set your makeup and remove shine in between photos. A pressed powder compact makes it convenient for a night out.