These Are The Makeup Swaps To Make In Your 30s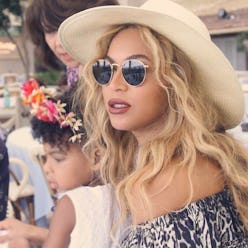 Listen, we're not saying that once you pass your 20s, all fun goes out the window and your makeup bag becomes all business. But certain things need to be done to stay looking your best during this magical decade. From youth-boosting foundation to flattering lip shades, these are the updates your 30-plus beauty routine is missing. Click through for the swaps to make now.
Flawless At 30
Swap Powder For Cream
Powder makeup can dehydrate the skin and settle into fine lines, which only accentuates them. Instead, use cream products that keep skin looking dewy and plump.
Swap Dark Matte For Light Satin
Choose lipsticks in shades of mauve and pink to help define while adding a youthful rosiness. Cool tones—like deep burgundies or vampy, almost black shades—are great when you want to pump up your look, but make sure to choose a glossy formula. Dark mattes can highlight fine lines and, in turn, age you.
Swap Glitter For Shimmer
We're not saying you can't wear glitter for a night out (hello, New Year's Eve), but when it comes to your daily look, go for something softer. A shimmery shadow on the center of your lids will make your eyes pop while still looking age appropriate.
Swap Pencils For Brow-Building Gels
In your 30s, changes in hormones can cause hair to thin, and this can sometimes include your brows. Instead of filling in your arches with a dark brow pencil, use a fiber gel for a much more natural result.
Swap Black Eyeliner For Brown
A stark black eyeliner can actually age you around the eyes—instead, swap your sooty shade for a dark brown. It won't look much different but will have a favorable effect. People will know you look more youthful, but they won't be able to put their finger on why.
Swap Matte Primer For Luminous
Chances are you were shiny in your 20s (we all were), and you did everything you could to tone it down. In your 30s, you'll experience less of that "glow," so swap your matte primer for one in a luminous finish to make you look dewy and fresh, but in a non-oily way.