These Makeup Mistakes Are Making Your Eyes Look Small
Steve Wood/stevewood.biz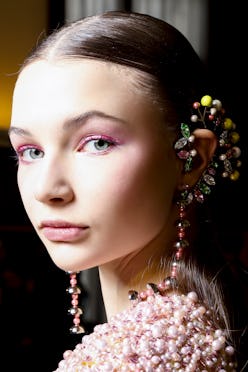 Since the days of Twiggy's reign, women have been doing anything and everything they can to make their eyes pop—and now, we are too. Heralding the return of the doe-eyed mod look, we've rounded up seven easy ways to nix your bad habits and make your peepers look bigger instantly—plus, shop our favorite products to get the job done.
Eye Spy
Mistake: Not De-Puffing Under Your Eyes
We all get bags, but taking a few minutes to settle the swelling makes your eyes look bigger and more awake. Pop eye patches in the fridge for extra cooling and de-puffing power.
Mistake: Using A Concealer In A Shade Too Light
A common misconception for hiding dark circles is to use a shade lighter than your foundation, but this can draw more attention to the area under your eye. Instead, choose a concealer in the same shade as your foundation to avoid making circles the focal point.
Mistake: Not Curling Your Lashes
Taking a few seconds for this step instantly opens up your eyes.
Mistake: Not Tightlining Your Eyes
Lining the inner rim of your top lid with a dark brown or black pencil makes lashes look fuller.
Mistake: Not Defining Your Crease
A dark shadow in your crease adds dimension and creates the look of large eyes.
Mistake: Using A Dark Liner On The Waterline
Using a dark pencil to line the lower waterline can accentuate dark circles. Instead, use a nude pencil to instantly brighten the entire area.
Mistake: Not Incorporating Color
When you want to try something new, add a subtle pop of color on the lids to draw attention directly to your eyes. Just remember to accentuate the crease in the darkest shade.