Kylie Jenner's Newest Lip Kit Launches Tomorrow. Here's What It Looks Like…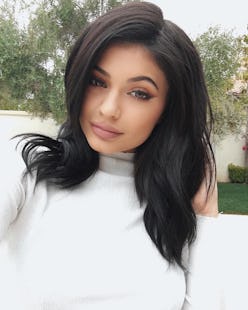 It's official: There's no stopping the indomitable force that is Kylie Jenner's Lip Kits. Following two super successful sold-out launches, the third collection is sure to be just as difficult to lock down. Like a true Kardashian, the 18-year-old social media star took to Instagram to tease the launch with the caption "4/1". In case you're not sitting in front of a calendar right now, that's tomorrow. If you're still trying to snag a popular Lip Kit for yourself, we suggest you stay glued to your computer until then—you know how that goes! But before you dedicate your entire evening to camping out for her new shades, take a look at the swatches below (you want to make sure you even like them first). And surprisingly enough, they're not matte.
Still in it to win it? You're going to need some entertainment while you sit at your laptop all night. Here, watch Kylie's video titled "Glosses" that introduces her newest addition to Kylie Cosmetics. The 3-minute mini movie shows Kylie driving through the desert in her convertible Rolls Royce and sitting outside a motel while she waits for her girlfriends to steal money in what looks like a Spring Break caliber shake down. Even during the girl-power commotion, the four of them still manage to lacquer their lips into oblivion. We're not sure how we got from lip gloss to girls toting guns but understanding the Kardashian-Jenners has never really been the point, has it?
{{unknown}}