How To Look Like An Italian Girl In 6 Steps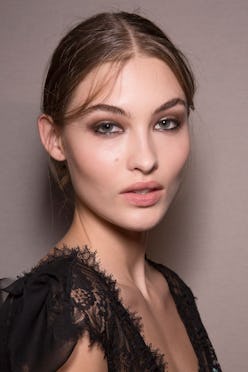 What is it about Italian girls that feels so glamorous? Whether it's their impeccable skin or sultry stare, they have a certain special something that sets them apart. Here, we decode their secrets using the best runway beauty trends from Milan Fashion Week so far. Master these six hair and makeup looks and you'll be channeling Italian chic in no time. Because it's about a way of life, not where you were born.
Let The Tendrils Loose
Italian girls always look pulled together in an I-woke-up-like-this kind of way. Loose tendrils framing the face will give you that cool-girl presence in five seconds flat.
Round Out Your Brows
We tend to accentuate the peak in our arches, but Italian women prefer the youthful, rounded brow.
Master The Chignon
Perfect for every occasion from a night out to a day exploring the city, a messy-yet-polished chignon is the bridge between one and done and done up.
Fake A Flush
Italian women know just how to make their complexions look like baby skin. Pat a cream blush on the outer corners of your cheeks and on the lips and lids. That way your skin will look naturally rosy and not like you're wearing makeup.
Embrace Your Texture
For wavy or curly hair, a shaggy cut and textured bangs just scream Italian beauty. Just make sure to choose a stylist that specializes in curls.
Pair A Smoky Eye With Naked Skin
For a night out, Italian girls kick up their look with a smoldering eye, but they know to keep their skin natural-looking and understated. Sometimes less is much more.