Makeup Mistakes That Make Your Pores Look Huge
Matteo Valle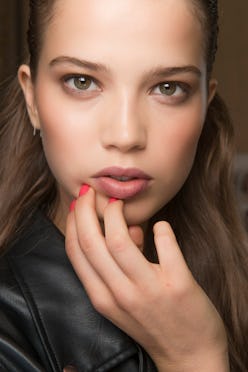 There's nothing worse than spending an hour on your makeup, then looking in the mirror and seeing nothing but your giant pores staring back at you. If this sounds familiar, chances are you're applying your products the wrong way. Here, get our tips for solving this common complexion predicament using products you probably already own. You'll thank us when that selfie doesn't even need a filter.
What Pores?
Apply A Pore Minimizer The Right Way
If you struggle with large pores, chances are you've already invested in a minimizing primer. But if you're just swiping the product onto your face, you're doing it wrong. Instead, press it into your skin to really fill them in and ensure a smooth canvas.
Use Eye Shadow Primer On Your Face
Eye shadow primers are meant to battle creases, but (surprise!) they're also a heavy-duty option to fill pores. This step is optional, but if you feel like you need extra coverage, add a layer and press it in.
Apply Your Foundation With A Brush
If pores are your main concern, swap your makeup sponge for a dense brush. Use a circular motion to buff liquid foundation into the skin.
Apply A Setting Powder With A Puff
Finish with a translucent powder. Instead of a fluffy brush, use a powder puff to press it into the skin. This creates a blurring effect to completely hide all traces of pores.