MatteoScarpellini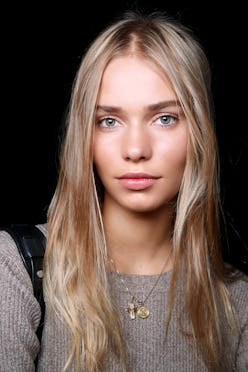 No modern woman needs an overly complicated beauty routine but going makeup-free doesn't always feel quite right either. Today Joey Maalouf shares his tips for getting gorgeous, flaw-free skin in just three easy steps. Yeah, he's kind of a genius.
You're Glowing
Tip 1: Use A Sponge For Even Foundation Application
Dot cheeks, forehead, nose and chin with liquid foundation or tinted moisturizer and blend with a sponge to ensure an even application. Never pour foundation directly onto the sponge.
Tip 2: Powder All But Your Cheeks
Apply powder on your forehead, chin, under eyes and around the nose. Avoid cheeks – you want to keep a bit of dewiness on skin for a healthy glow.
Tip 3: Add A Highlight To Eyes
For a gorgeous luminosity, apply a silvery eye shadow on the inside corners of the eyes on top and bottom. Then, set the look by blending color with a flat eye-shadow brush.
Tip 4: Finishing touches
Use a cream blush to add a dewy touch of color on the cheeks and lips and a highlighter to make your complexion glow.
The Final Look