5 Things To Know: How Makeup Is Really Made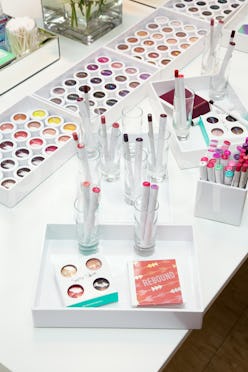 We spent a day at the ColourPop cosmetic headquarters in SoCal to see what really goes into creating makeup. We threw on a hairnet, put on rubber gloves and got down to work. From chemistry class to a crash course in product durability, our day was jam-packed with interesting facts. Here, you can go behind the scenes with us. You'll never look at your makeup stash the same way.
#1: Crash Test
Each formula goes through more than 30 quality tests before being approved and sold to the customer. There is an entire staff focused on dropping, crashing, shaking and bending each product to make sure it is can withstand day-to-day abuse.
Photos: Austin Winchell
#2: Chem Class
Cosmetic chemists hand pour, mix and create up to 3 lipstick and eye shadow shades per day. Once formulated, the chemist evaluates each item to make sure the formula isn't separating or the product isn't sweating (when condensation develops on the surface). If this happens, it's back to the drawing board to perfect the formula.
Fun Fact: Because everything (including the packaging) is made in LA, ColourPop can create, produce and bring products to market in 1 month, while most makeup brands take approximately 18 months to do the same thing.
#3: Take The Heat
Each formula is tested to 113 degrees multiple times over the course of 3 months to make sure it's the best possible quality and doesn't melt (should you make the mistake of leaving it in your car—again).
#4: Beauty Sleep
Sometimes products (usually eye makeup) undergo an overnight test to see how the item looks the next morning. Did it smudge all over your face? Did it completely wear off? ColourPop wants it to look just as good when you wake up as when you put it on.
Fun Fact: Every ColourPop order comes complete with a handwritten note from the team.
#5: Pigment Power
ColourPop has more than 1,000 pigment powders and mica pearls (that metallic glitter in products) on hand at all times. Sometimes one product can have up to 15 different powders and pearls in it!
Fun Fact: We got to take the shades we made for a spin. Shop a few of our favorite ColourPop products below.