Here's The One Thing Makeup Artists Wish You Would Stop Doing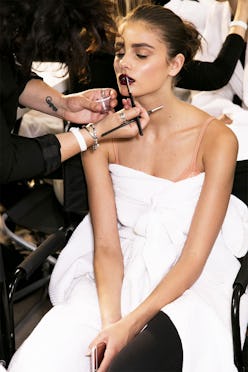 You probably have a trusted makeup routine you do every single day of your life. But guess what? It might include something that would make a pro cringe. We asked nine top makeup artists to get real with us about the one thing they wish their clients would stop doing. How many are you guilty of?
Using too much makeup. "I see more and more women wearing more and more makeup. Though I'm a huge supporter of wanting to look the way you want to look, I'm concerned that a number of women are simply following an Instagram trend. To me, that much makeup doesn't even look good in pictures with professional lighting, let alone in full daylight or under fluorescent office lights." —Beau Nelson, who works with Nicole Richie and Christina Hendricks
OD'ing on brow pencil. "One trend I've been seeing that is bad is what I call the stencil brow. It has hard, square edges and an unbelievable arch. The brows are a vast mountain of little hairs. The best way to draw them on or fill them in is to use a lighter color than your hair and use featherlight strokes in the direction your hairs naturally grow. And it doesn't need to be the same opacity everywhere—usually the brows are more transparent on the inner edges." —Quinn Murphy, who works with Gigi Hadid, Lily Aldridge, and Olivia Palermo
Making a mess of mascara. "I constantly see women who apply so much mascara but then don't clean up the eye area properly. You're then left with mascara smudged all over the lid. After applying mascara, I like to wait for it to dry before taking a dry Q-Tip to wipe away excess product that may have transferred onto the eyelid and underneath the eye. It only takes a few seconds, and it makes such a difference." —Carissa Ferreri, who works with Gina Rodriguez and Bailee Madison
Matching your foundation to the wrong part of your face. "One common mistake is matching your foundation to your cheeks and jawline. This often makes the face and neck two different colors. Instead, test foundation on your neck or collarbone to find the perfect match." —Mally Roncal, who works with Beyoncé and Jennifer Lopez
For the complete list of pro tips, check out the full article here.
By Renee Jacques, Allure Associate Digital Editor