Gwyneth Paltrow Shares Her Biggest Beauty Mistake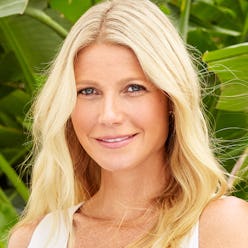 Gwyneth Paltrow has graced red carpets and big screens for decades, looking absolutely flawless, so naturally she has picked up a lot of beauty tips along the way. How better to pay forward her knowledge than by creating her own makeup products? Her line, Phyto-Pigments Color Makeup Collection by Juice Beauty, is formulated with pure extracts, cold-pressed oils from flowers, fruits and vegetables and high-quality pigments, delivering great results while supporting the health of your skin.
With such a thoughtfully crafted beauty line under her belt, it's hard to imagine the multi-hyphenate ever having made a beauty faux pas, but she assures us she has. When pressed to share, she admits her overplucked eyebrows weren't a high point, deadpanning: "I don't look back fondly on my thin eyebrows in the '90s." Most women who opted into the same trend at the time can relate—particularly now that thicker brows are in fashion—but we have a hard time feeling that bad for her. Not only did she still look fantastic (proof below), but Brad Pitt was her boyfriend at the time, which is far more than the rest of us can say about our beauty blunders.
Getty Images