Glossier's Latest Product Launch Was A Staple At Last Night's Academy Awards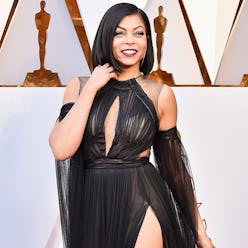 While the dresses and moving speeches are still at the top of mind in regard to last night's 90th Academy Awards ceremony, there's another star that's creating a stir—and its not a celebrity. Nope Glossier's latest launch, Lidstar, made quite a splash on the faces of some high-profile ladies. We're talking Tracee Ellis Ross, Taraji P. Henson and big winner Allison Janney to name a few!
And while red carpet makeup may seem like a tall order on rushed Monday mornings (or every morning, if we're being honest), this little makeup wonder is actually pretty easy to master and takes all of a few seconds to apply.
All you have to do is swipe on the shade of your choice, blend with your finger and go about your business. If you have the luxury of a few extra seconds you can get fancy and apply one color to the inner corners of your eyes and another to the outside, blend and, voila, you've got ombre eye makeup that actually looks like you tried.
May we also suggest keeping one of these little bad boys in your purse or at your desk for those last-minute appointments, meetings, after-work dates. Because, you know, life. Check out a few of the shades we'll be stocking up on below, as well the stars that wore the new launch flawlessly last night!
Taraji P. Henson Wearing Listar In Fawn
Tracee Ellis Ross Wearing Lidstar In Cub & Fawn
Allison Janney Wearing Lidstar In Fawn
Lidstar in Fawn
Lidstar in Cub
Lidstar in Herb
Lidstar in Moon