The Makeup Trends French Girls Will Be Obsessed With Next Season
Alessandro Zeno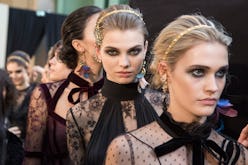 What's not to love about a French woman? Her glowing skin and effortless makeup are never too perfect (in all the right ways). With our eyes firmly fixed on fashion week in the City of Light, we spotted a slew of beauty trends on the runways that embody exactly the kind of je ne sais quoi the rest of us are so eager to achieve. Try these looks before they catch on stateside. C'est magnifique!
Oui!
Messy Brows
If you currently trim your brows, make like a French girl and let them grow long. Use a clear gel to brush them straight up for a laissez-faire feel.
Blotted Lipstick
Put down the lip liner and go for something less refined and more on-trend. Apply your favorite bright lipstick to the inner rim of your lips, then use your finger to blend outward in a blotting motion for a diffused edge.
Smoky Eye
This is an ultra-cool trick for nailing a night-out look. The Parisian way is to use a shimmery shade of gray and blend it up to the brow bone. Finish with a black liner in the waterline and a swipe of mascara.
Glitter Lids
A little sparkle never hurt anybody. The chicest way to pull it off is to apply a single shade of gold glitter on the entire lid then leave the rest of the face subtle and natural.
Bottom Lashes
Born in '60s London, Twiggy lashes made their way to Paris this season. Accentuate the lower lash line with mascara, or if you're feeling bold, a few individual faux lashes.
Colorful Eyeliner
Believe it or not, bright liner can read understated when applied the right way. The French-girl method is a thin line on the inner corner and another on the outer corner.
Dark Eyeliner
What's more Parisian than simply swiping on a black liner before running out for a night on the town? Keep everything else minimal and dewy for a truly effortless result.