You're Making These Eyeliner Mistakes—Here's How To Stop
MatteoScarpellini.com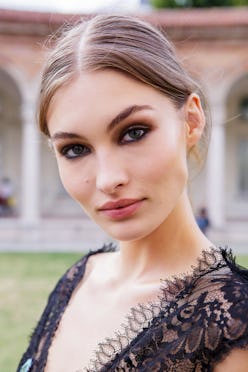 You might be getting an A for effort, but when it comes to your eyeliner, are you really getting it right? From the order of your makeup routine to the color you're using, applying eyeliner correctly is the key to making your eyes sparkle–and with our help, they can. Follow our tips so you don't fall victim to these five common makeup mishaps.
Walk The Line
Not Prepping The Area Beforehand
Before applying any eyeliner, use an eye-shadow brush to dust the area with a translucent powder. This gets rid of any oils you may have on your lids or lower lash line, which can prevent the liner from adhering to the skin.
Lining The Waterline With A Black Liner
Avoid lining the lower waterline with a thick, black liner for daytime. This makes eyes look smaller and easily smudges, leaving behind unsightly raccoon eyes. If you love the look of a dark, sultry eye, try it for a night on the town or swap it for a navy shade—it's not as stark as black and it makes the whites of your eyes look brighter.
Using A Pencil To Create A Cat Eye
A dry, hard pencil tugs at the eye, resulting in uneven, chalky lines. When it comes to creating a sharp cat eye, choose a liquid or gel liner that glides across the skin for a crisp, long-lasting finish.
Not Tracing Your Liner With Concealer
Tracing your liner with a concealer (especially on the lower lash line), will create an invisible barrier that prevents smudging and feathering.
Curling Lashes After Applying Liner
Always curl your lashes before applying eyeliner to avoid smudging it or wiping it off. If you have a hard time keeping your lashes curled, use your blowdryer to carefully warm up your curler—it's like a mini curling iron for your lashes. Just be very careful not to make it too hot, as this could cause a bad burn.
Pulling On Your Eye
Pulling on your lid when applying eyeliner changes the shape of your eye and makes it impossible to create a symmetrical cat eye. More importantly, it can cause premature wrinkling around the eyes. The best trick is to look down into your mirror so your lid lays flat naturally.
Applying White On The Waterline
A great trick for making eyes look wider and more awake is to line the waterline with a light-colored liner. However, stay away from bright whites. The whites of your eyes are never truly as bright as a snow-colored liner, so it can end up making your eyes look even more tired. Instead, try a fun color to make your eyes pop.
Not Setting Your Liner
Get that cat eye to stay in place all day by using an angled eyeliner brush to go over your liner with a black shadow. This will set the liner and make it completely smudge-proof.