5 Of The Best Eyebrow Tricks We Learned This Year
Matteo Valle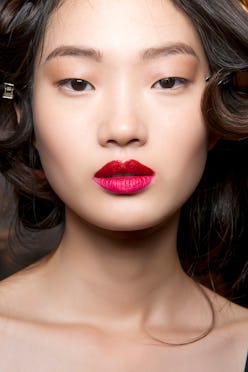 Why sift through the World Wide Web for the best brow tricks when you can find them all in one place? We've learned some pretty amazing hacks for tinting, bleaching, shaping and filling in our arches this year, so we're rounding up all our favorites here. Read on to ensure you're kicking off 2017 with your best possible brows.
1. Brush Your Eyebrows Downwards Before Filling Them In
Instead of brushing your brows into place, then filling them in, brush downward to see the sparse areas. Use a brow pencil to fill the areas that need work, them comb them back into place.
Click here for the full tutorial on filling in your brows.
2. Throw Away Your Eyebrow Stencils
No two faces are created equal, so why are we stenciling on eyebrows that don't complement our features? Instead of using cookie-cutter shapes, try working with your natural arches to get the best, most-natural payoff.
Click here for pro tips on achieving perfect brows.
3. Always Set Them With A Clear Gel
You may think that once you brush out your brows, you're done dealing with them for the day. However, not using gel as a setting product can nullify your hard work, resulting in smeared color and untamed hair.
Click here to for even more eyebrow mistakes to quit.
4. When It Comes To Tinting, The Prep is Just As Important
When tinting your brows, always make sure to thoroughly wash your face. Sounds obvious, but even the slightest bits of makeup residue or oil can leave patchy areas. Outline your brows with a layer of Vaseline to prevent unsightly stains. And don't tweeze your brows before tinting, as this can lead to irritation.
Click here for the full story on DIY brow tinting and bleaching.
5. Microblading Is The Best Option For Barely There Brows
Our Associate Fashion Editor Amy Lee struggled with sparse eyebrows—until she got them tattooed. "Microblading my eyebrows changed my life. I have always been insecure about my sparse arches, but getting them tattooed has made my beauty routine so much easier. It has faded over time since I got them nine months ago, but the outlines still make a huge difference even when I've not applied any brow products, compared to when I didn't have them. The pain during the procedure was totally worth it and I'd get them again in a heartbeat."
Click here for her entire microblading experience.