The Eye-Makeup Inspiration You Need To Step Up Your Beauty Game This Weekend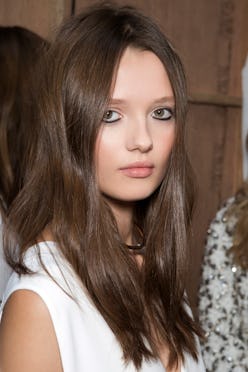 If you're tired of your mediocre makeup look, in today's beauty lesson, we're showing you how to make your eyes stand out like never before. From colorful eyeliners to shiny eye shadows, this is just the inspiration you've been waiting to breathe new life into your get-pretty routine. And the best part is you probably already have everything you need to try these looks at home and they're easy enough to do in a under 5 minutes. Take notes, then go out there and let your eyes do all the talking.
Black Out The Lower Lash Line
Swipe on a black liner under the lower lash line and leaving your waterline clean for a modern spin on the '60s look.
Give Your Lids Some Shine
Keep the rest of your face fresh and dewy, then pat on a metallic silver shadow to just the center of your lids. It'll give you that extra twinkle your eyes are missing.
Utilize The Inner Corners Of Your Eyes
An opaque white liner is all you need to brighten your eyes. Give it further edge by rimming only the inner corners of your upper and lower lash lines.
Brighten Up Your Lids
All you need to warm up your look this season is a splash of color on your entire lid. Take on a shade of tangerine and if you're feeling really frisky, add a touch of clear lip balm to pump up the shine.
Get Colorful With Your Cat Eye
Never underestimate the power of a colorful eyeliner. Line the top lash line with a bright blue shade this season and customize your look by going thinner or thicker depending on your mood.