The One Lipstick Editors Always Have In Their Bag
Antonello Trio/IMAXTREE.COM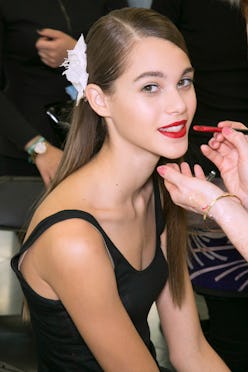 So many factors go into choosing a lipstick—shade range, texture, lasting power, the list goes on. Lucky for you, we've tried pretty much everything in our quest for the best. With high standards in mind, we're sharing the standouts we always have stashed in our bag.
Editors' Picks
"When this lipstick first landed on my desk, I thought the concept was cute, but when I actually applied it, I couldn't believe how much of a difference it made on my lips. The outer third of the lipstick is a shade darker, and when swiped on, it gives you a subtle ombré effect. I love how it makes my lips look fuller with minimal effort."
—Stephanie Montes, Beauty Director
"I always find myself going back to Velvet Teddy, it's my favorite lipstick of all time. It's the perfect shade of nude that's not too pink or too brown. It makes my lips appear plumper and feels so nice and creamy."
—Amy Lee, Fashion Editor
"No matter what I do, my lips are always severely dry, so a hydrating formula is essential. I don't like too much color most days, but sometimes need a little boost, so this moisturizing formula delivers the best of both worlds: hydration and a healthy tint."
—Laura Lajiness, Fashion Editor
"This lip stain seriously does not budge (it lasted through an entire day of wine-tasting), and it doesn't dry out my lips. The shade is the perfect true red."
—Allie Flinn, Associate Lifestyle Editor
"I had always struggled with finding the perfect neutral until I discovered this super-affordable pinky nude. The formula is creamy and provides a matte finish that sits comfortably on the lips and lasts a very long time."
—Andrea Navarro, Beauty Editor
"I'm a girl that loves a bright lip. Red, purple, hot pink, orange—I love and wear it all. I recently came across this lipstick during one of my weekly stops at the NARS shop down the street. Not only did I fall in love with the orangey red shade, but the formula sent me to the moon. I love that it's non-drying and will last most of the day (literally it will withstand the apocalypse). I'm now putting in my order for about five other hues, because I clearly have a substance-abuse problem in regards to lip products."
—Angela Melero, Managing Editor
"I wear lipstick on the reg and swap colors as often as I do underwear, but my go-to shade is a dusty rose that goes on easy with a slightly matte finish. The formula neither dries nor chaps."
—Samantha McDonald, News Editor
"I rarely wear a full lip but I love a flush of color, and this new matte lip powder provides just that. I'll apply it over lip balm for day then build it for a more intense shade come evening."—Nicky Dream, Editorial Director
"I've never worn lipstick in my life."
—Erin Nicole, Lifestyle Editor