12 Drugstore Contouring Products That Sculpt Your Face For Under $15
Matteo Valle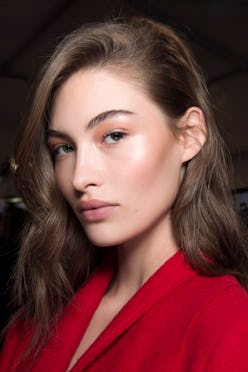 Thanks to a certain Kardashian, the concept of contouring has become as normal as the classic red lip or a go-to smoky eye. Whether you use the technique daily or have tried it for a special occasion, you've definitely taken it for a spin before. But if you're a contouring newbie who doesn't want to waste your pricier goods as you get a feel for the trend, then drugstore contour products are the way to go.
Aside from cheekbones, contour products will emphasis your nose, lips, and jawline. But if you aren't exactly sure where to start, a kit has everything you need to get the look. The shades can be used alone, or mixed together to achieve your preferred finish. At only $10, consider L'Oreal's Infallible Total Cover Concealing and Contour Kit, which includes four pigmented shades to conceal and contour like a pro. Or, if you're constantly on the go, a contour stick may be for you. NYX's Wonder Stick, $12, comes with one side to highlight and the other to contour.
It might cost Kim a fortune to get chiseled cheekbones, but the same doesn't have to go for you. Below, shop 12 drugstore contour products to get the sought-after look.
Contour Kits
Contour Sticks
Powder Bronzers
This article was originally published on