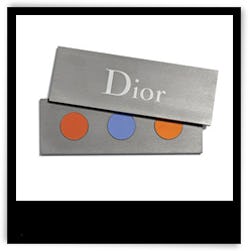 Safe shadows, step aside! There's a cornucopia of bold new powders on the market, and they're just begging to grace your lids. But take caution: dabble your makeup brushes into bright color, like Dior's Limited Edition Bastet Eyeshadow, just once, and you may never revert to your duller palettes.
The product of Dior's collaboration with French artist Vincent Beaurin, our beauty buy du jour presents endless possibilities for your spring primping. Enclosed within a sleek grey case, three head-turning matte hues of deep sky blue, spicy yellow and sunset orange await to liven up your lids. Wear each shade solo or blend them together for a powerful look worthy of the tablet's muse, Egyptian goddess of pleasure and love, Bastet!
Availability: Dior Limited Edition Bastet Eyeshadow Tablet ($200). For additional information, visit Dior.com.