This Is The Best Trick For Better-Looking Makeup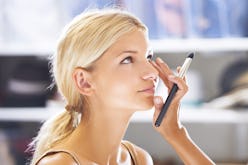 You've heard it before: For the best-looking makeup, start with the perfect base. But if you're not exactly sure what that means, you might be missing out on an important and seriously game-changing step. It all starts with the perfect skincare routine—if your skin looks amazing, your makeup will always look flawless. From products that grip your makeup in place all day and ones that neutralize skin concerns, shop the products to help you attain flawless-looking skin and therefore a better canvas for your makeup, always.
Skin Savers
Smooth Your Skin
Perfect for all skin types, this lactic and salicylic acid peel gently exfoliates your face (perfect for smooth makeup application), without irritating the skin. Packed with coconut oil, squalene and panthenol, this must-try step leaves your skin feeling more moisturized and looking radiant in minutes.
Calm Puffy Under-Eye Bags
Stop piling on the concealer and get to the root of your under-eye problems, whether that be dehydration or lack of sleep. This caffeine, hyaluronic acid and vitamin C-packed eye cream reduces the appearance of fine lines, wrinkles and dark circles while hydrating and firming. Results are visible immediately and over time—perfect for when you want to give your heavy-duty concealer a break.
Neutralize Skin Concerns
We all have areas on our face that are prone to redness. Apply to clean skin and watch as this color-correcting treatment changes color from green to beige, while neutralizing pigmentation issues and protecting skin from the environment in the process. What redness?
Prep Your Base
This last step in your skincare routine doubles as the first in your makeup regime. Loaded with shea butter and 100% argan oil, this lightweight, anti-aging complexion finisher hydrates, smoothes skin and also doubles as a primer that grips your makeup in place all day and gives you a luminous glow.