Highlighter Is This Year's Makeup MVP (Just Ask Rihanna)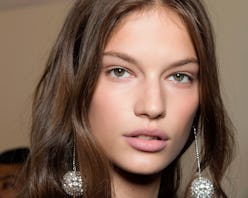 If there was an MVP of makeup this year, we think highlighter would be it. In fact, it holds the title for the past few years, now that we think about it. Never have we been more willing to take a page from Rihanna's book and "shine bright like a diamond" (come on, have you seen Fenty Beauty's Killawatt Freestyle Highlighter?). Seriously, though nothing pulls a makeup look together quite like the perfect highlighter—we simply don't know how to live without this makeup phenomenon (or how we lived without it in the first place).
It seems we're not the only ones who see the shimmering product as a beauty staple. Celebrities, makeup artists and pretty much everyone else feels the same. Just ask celebrity makeup artist Gucci Westman, who counts Jennifer Aniston, Drew Barrymore, Cameron Diaz, Anne Hathaway, and Martha Stewart as clients. In terms of application, Westman believes that it's always preferable to have luminous, "enhanced skin," suggesting we "avoid certain areas, specifically the T-zone and forehead" to stay in said luminous territory and avoid streaky or shiny looks. She continued by saying, "If I'm doing an actress for a televised red carpet, I might use less highlight and powder, as lights are so bright and bring out extra shine, which isn't flattering."
And while the upper cheekbone is a sweet spot for most highlighter fans, Westman says she likes to apply some radiance to the "bridge of the nose, inner tear duct and sometimes even eyelids." Also on the highlight bandwagon is Insta star Daisy Marquez, who shows off her glistening complexion to her one million followers on the regular. According to Marquez, "Highlighter can be worn all year round! During the summer it's perfect for that extra glow, and for the fall/winter it makes the skin look dewy and fresh." And while the explosive (and extreme) contouring trend may have died down in recent years, highlighter continues to be popular, "because you can wear it with or without makeup, says the social media star. "I personally can't step out the door without it. I recommend applying highlighter on the areas where the sun usually hits: temples, down the bridge of the nose, cheekbones, Cupid's bow and even the chin."
Have you found your highlighting soulmate yet? If not, don't stress it: Highlighters are a plenty these days, and don't necessarily need to be a high-end purchase. There are amazing varieties that run the price gamut and still deliver amazing results. So whatever your budget, break out your makeup brush and get ready to shine with some of our favorite highlighting products.
"Super Loaded is a tinted highlight that can be used as a warm blush, combined with a highlighter. It's amazing, so easy to use and smells like a vacation. Can also be used on eyelids beautifully." -Gucci Westman
"My favorite highlighter at the moment is the Anastasia Beverly Hills Amrezy Highlighter! It's super silky so it doesn't emphasize my texture and it glides on the skin like butter." @DaisyMarquez_'s