15 Beauty Products You Need From Free People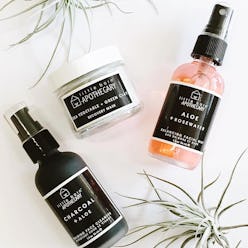 Free People has long been the go-to for the trendiest fashion pieces on the market, but as of late, their beauty department is looking just as well stocked. So, to save you the trouble of wandering aimlessly through their obscure beauty selection, we've rounded up our 15 tried-and-true picks. Change is good, especially when it makes you look and feel (and smell) amazing.
Free People Beauty Shopping List
This nail polish-remover gel has a built-in cuticle balm, so you don't dry out your fingers the next time you remove a manicure.
Changing the norm in lipstick application, this powder adds a matte wash of color on your lips.
You need a Mason Pearson brush. Period.
The 100% natural shampoo is the perfect way to get your hair clean and make it look super shiny.
Finally, a full collection of vegan makeup brushes in one place.
Get a perfectly pigmented pout without drying our your lips.
Detox your skin with this all-natural deep cleaning face mask.
Made with certified vegan and organic ingredients, this rose hip oil reduces the appearance of fine lines and revitalizes the skin with fast-acting antioxidants.
Soak up oils from these scalp and give your hair tons of volume with this clay dry shampoo powder.
Spritz this vitamin-loaded blend of all-natural fruit enzymes any time your hair needs a boost of shine.
Skip the false lash strips and apply this fiber between mascara coats for the longest lashes ever.
Certified vegan and amazing color payoff. What more could you ask for?
Melt away all traces of makeup, even stubborn mascara, with this organic almond cleansing oil.
Made with coconut, grapeseed oil and chamomile, what is there not to love about this face oil?
Make your hair look shinier and feel softer with a pump of the french lavender and frankincense blend. It also doubles as a hair perfume on those days when you need a boost.