The Best Foundations For Faking Perfect Skin, According To Editors
Ivan Lattuada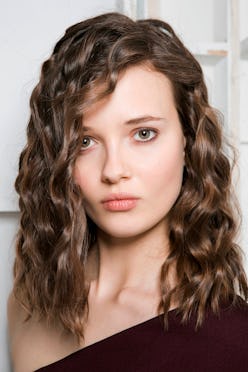 If anybody knows how to fake it till they make it, it's an editor. From running around town for events, late nights at the office and frequent travel, our skin can take a beating. However, thanks to our access to the best beauty products, we've found ways to maintain our glow no matter how hectic our schedule gets. Ahead, the foundations that give us the most beautiful skin money can buy.
Fake A Glow
"My skin gets congested easily and I've been told I need to use mineral-based makeup. This hydrating gel-cream offers the perfect amount of coverage while hydrating. It's perfect in the summer, but I love it year-round."
—Laura Lajiness, Fashion Editor
"Confession: I don't wear foundation every day. I typically stick to BB cream unless I have a special occasion or a hot date—this is rare—for which my complexion needs to be in its most flawless state. So, that's why I'm willing to splurge on a foundation that's gonna do the job right. This formula literally transforms my skin into a pore- and blemish-free, glowing canvas. I will swear by it until my dying day."
—Angela Melero, Managing Editor
"This foundation feels so lightweight but provides tons of coverage. It applies like a dream, makes my complexion glow and, most importantly, doesn't oxidize on my super-pale skin."
—Allie Flinn, Associate Lifestyle Editor
"I can't stress enough the importance of this product in my beauty routine. I'd been searching for my shade since I picked up my first bottle of foundation, and just a few months ago Stellar released the only one I need going forward. Please don't ever discontinue!"
—Samantha McDonald, News Editor
"I met a makeup artist a few months ago who put me onto this foundation from the UK. I was lucky enough to have her color-match me so I could know which shade to order online, and I've been hooked ever since. It's like an invisible shield for my face and manages to cover up all of my blemishes. Plus, it doesn't crease."
—Andrea Navarro, Beauty Editor
"I've been wearing this foundation since college, and every time I try to switch to something more posh, I end up disappointed. For me, this is the perfect balance between full coverage and lightweight wear."
—Erin Nicole, Lifestyle Editor
"When I want a little more coverage, this formula is my go-to because it contains hyaluronic acid, so it's super hydrating without being greasy."
—Nicky Deam, Editorial Director
"Picking my favorite foundation is hard—I've tried a lot and love each one for different reasons. If I had to choose, I'd go with Make Up For Ever's Ultra HD Invisible Cover Stick Foundation, because it gives me full coverage when I want to look extra glam, and the stick makes it easy to spot-treat like a concealer for everyday."
—Stephanie Montes, Beauty Director
"This foundation is good skin in a bottle. I love it because it's never cakey. It blurs and conceals for a healthy, glowing finish that looks natural and feels like you're wearing nothing. It's lightweight yet can build and cover surprisingly well, especially when paired with a concealer."
—Amy Lee, Fashion Editor